5th TEMORA COUNTRY MUSIC FESTIVAL
"The Friendly Festival"
Thursday 23rd - Sunday 26th November 2017.
Temora is a very visitor friendly town with a wide variety of accomodation choices including motels, hotels, B&B's, caravan parks and camping area's. RV's, Motor Homes and Campervans are well catered for.. There are FREE PARKING areas for FULLY SELF-CONTAINED units.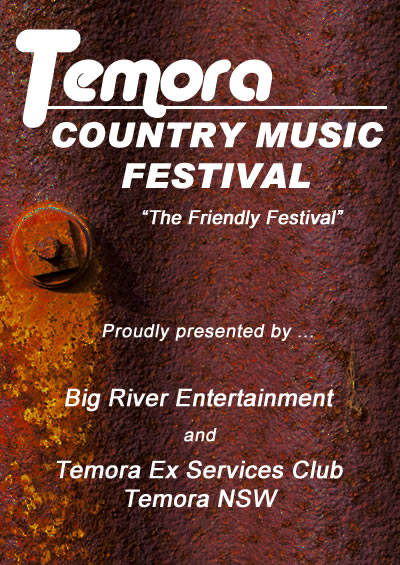 THURSDAY Enjoy an informal Afternoon Tea & Concert at the Bundawarrah Centre & Rural Museum with CRAIG GILES & FRIENDS 1.30pm - 4.00pm $6. Price includes afternoon tea & entertainment. These tickets are limited so book early to avoid dissappointment.
Then continue the fun and entertainment at the
TEMORA EX SERVICES CLUB where you are always welcome . . .

FRIDAY Afternoon - In the Auditorium - 12.30pm - 5.30pm. Tickets $10
Be entertained by a variety of featured and invited walk-up artists.
Anyone who would like to sing a song, recite a poem or play a tune on your favourite instrument, contact Roz on 0408 597307 to receive an application. You need to contact Roz at least 4 weeks prior to the event.
FRIDAY NIGHT - Lounge Entertainment kicks off with JAY PODGER at 7pm. No Charge.
SATURDAY - In the Auditorium - 10.30am - 10.00pm. A variety of local and Interstate entertainers. Tickets $26
SUNDAY - In the Auditorium - 10.30am - 11.30am Gospel Concert .
SUNDAY - In the Auditorium - 11.30am - 6.00pm A variety of local and Interstate entertainers. $16 (all Sunday)
TICKETS : Friday $10 , Saturday $26, Sunday $16.
* Special ExServices Club Early Bird three day pass (Fri, Sat, Sun) $40
Tickets are limited to ensure everyones comfort so book early to avoid disappointment.
Contact the ExServices Club on 02 69774177 or Roz on 0408 597307
The EXSERVICES CLUB COURTESY BUS will be available all weekend.


Feature Artists .... CRAIG GILES, WAYNE HORSBURGH, GRAEME HUGO, SHARON HEASLIP, KINTA, JAY PODGER, JAMIE NIELSON, VICKI WALSH, ALEX WINNELL, CROSS COUNTRY, GRANT LUHRS, AMANDA LONG, THE GOOD TIME BAND and others to be confirmed .
Friday Invited Walk Up Artists - TBA
Accommodation
| | |
| --- | --- |
| Goldtera Motor Inn | 02 69772433 |
| Koreela Motor Inn | 02 68774987 |
| Showground Caravan & Camping Sites | 0427 280 339 |
| Temora Airfield Tourist Park & Cabins | 0418 780 251 |
| Temora Caravan Park | 0418 780 251 |
| Temora Motel | 02 69771866 or 1800 186 918 |
| Aromet Motel | 02 69771877 |
plus many more accommodation and camping choices
For information on Temora Township & accomodation visit www.temora.com.au
or phone Temora Visitors Centre 02 69771086
Why not come early and enjoy everything else this friendly town and district has to offer